We are a professional manufacturer of abrasives, offering a wide range of metal abrasives, plastic abrasives and garnet abrasives to our customers.
We have been in the industry for more than ten years and are up-to-date with the latest developments in the market, serving abrasive customers from many countries and regions around the world.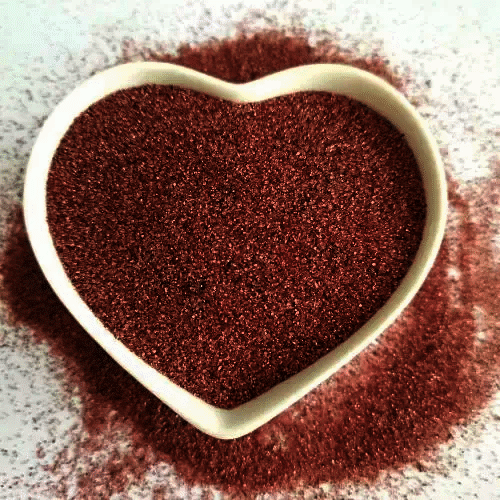 Garnet Abrasive Recommend Products
Garnet Abrasive Detail Introduction
Our waterjet grit is made from high quality rock ore iron aluminium garnet, and also adopts the most advanced international production technology. Its quality is unanimously recognized by the majority of manufacturers, and has the characteristics of high melting point, high specific gravity, acid resistance, wear resistance, high strength and stable chemical properties, which are significant advantages in the process of actual use.
On top of providing high quality golden steel sand, we can also provide very favorable prices. Garnet abrasive is the ideal choice to help the majority of manufacturers further improve their market competitiveness, and many manufacturers have further expanded their market scale through cooperation with us.
We can provide you with custom-made services, if you need it, welcome to contact us!
Garnet Abrasives
The process of garnet abrasive: selected garnet → drying → crushing → acid washing → washing → secondary drying → sieving → finished product.
The production process of garnet abrasives is relatively simple, as garnet is a non-metallic abrasive, which is relatively easy to produce. The selected garnet rock ore with a content of 85.4% is dried manually so that the moisture content is less than 4.7%, mechanically crushed and acid washed to remove impurities, washed to remove silt and dust, and secondly dried manually to facilitate sieving and dust removal so that the moisture content is less than 5%. Finally, an advanced secondary sieving process (to make the particles more uniform) is used to screen and pack the product.
More Description
We are a one-stop-shop for garnet abrasives, and our quality standards are very high, and our production processes are world-leading, which is the main reason why many customers rely on us.
In order to guarantee the quality of our waterjet grit, we regularly train our frontline workers to ensure that their production techniques are standardised, and we have also introduced the most advanced international technology and set up a comprehensive testing facility so that all goods are rigorously tested before they leave the factory to ensure that they are of high quality.
In addition, we can also offer very good prices, we never attract customers with low prices, on the contrary, we attract customers with value for money, with us, you will feel the most cost-effective shopping trip.
We have a very high production efficiency, no matter how much you need, we can guarantee on-time delivery, fully guarantee your use needs. We always adhere to the principle of green development, honesty and trustworthiness, and have formulated a long-term development plan, dedicated to promoting the development of the garnet abrasive industry, if you need, welcome to contact us, we will be happy to serve you!
Garnet abrasives: a complete buying guide.
Do you know anything about garnet abrasives? Do you want to buy some high-quality garnets abrasives? Our waterjet abrasives will be your most reliable choice.
Here are some common questions you may have about garnet abrasives.
1. Benefits of Garnet Abrasive
1. Made from high quality garnet using world leading production techniques, it is resistant to wear and corrosion and has a high degree of hardness.
2. Inexpensive and low cost, which can provide very high economic benefits to manufacturers.
3. Excellent processing performance, practicality and no damage to the material.
4. With very good three-dimensional adaptability, processing quality is very high.
5. The production and processing process is basically dust-free and pollution-free, which is very beneficial for the environment.
2. How much Garnet Abrasive Cost
Our garnet abrasives are priced at around US$0.20 per kilogram and our grit prices are very favourable. We can send you samples of the relevant garnet abrasives if you require.
3. Industries using Garnet Abrasive
1. Wear resistant flooring aggregates: these floorings are characterised by their bright colours, as well as being wear resistant, acid and alkali resistant, easy to clean and maintain, and are used in car parks, airports, factory production halls, docks and other areas where cleanliness and load bearing are required. 
2. Water purification material or sewage filter material: the new application of waterjet abrasive in the environmental protection industry makes use of the properties of garnet abrasive such as high specific gravity, porosity, hardness, wear resistance and acid and alkali resistance.  
3.Water cutting grade garnet abrasive: mainly used with waterjet cold state cutting equipment to shape and cut a variety of materials, the good or bad of the golden steel sand used has a great impact on the cutting effect and the finished product rate.
4. Sandblasting and polishing abrasive materials: such as shipbuilding, automotive, pipelines, drilling platforms and other basic areas, waterjet sand on the one hand does not contain harmful substances, in addition there is a very good sandblasting effect, the price is also more inexpensive.
4. Garnet Abrasive Validation Documents
Our garnet abrasives have been certified by many international organisations such as ISO9001:2015, SGS, DGM, Test Report, TDS, MSDS, etc. They have very high quality standards and meet the needs of many manufacturers.
5. How to Verify Quality of Garnet Abrasive
1.Comparison of mineral sand colour: Garnet abrasive itself is purple-red or brown-red, if you find green, grey-white, black material, that is, impurities, the number of impurities means the purity of waterjet sand.
2. Water washing effect comparison:, take 30 grams of gold steel sand small sample, add 80 ml of water, stir to see if the water is cloudy. If slightly white, that the gold steel sand abrasive mud content is low, there are water washing skills; water solution is gray, the mud content is slightly higher, water washing skills are poor; if the water solution is yellow or very dirty abrasive, it means that the waterjet sand washing skills are very poor or even no water washing skills.