We are a one-stop shop for R&D, production, sales and service of various abrasives, such as metal abrasives, plastic abrasives and corundum, etc.
We can provide very high quality standards and now serve customers from many countries and regions around the world.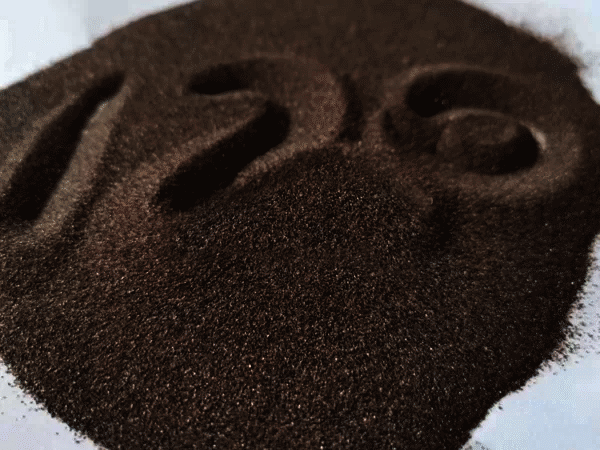 Fused Alumina Recommend Products
Fused Alumina Detail Introduction
We have a wealth of experience in the abrasives industry, and we have been able to develop our services and improve ourselves, thus establishing ourselves as a leader in the abrasives industry.
Our corundum abrasives have very high quality standards, we have introduced the most advanced international technology for production, and have trained our workers effectively to fully guarantee our production quality and production efficiency.
Our black corundum is of reliable quality, resistant to wear and corrosion, cost-effective and can provide a very good experience for our customers, and is a very well accepted abrasive.
If you need, welcome to contact us, we will provide you with a complete quotation and service, we sincerely look forward to cooperating with you!
Corundum
Corundum process: alumina and water mixed → suspension → adding colloidal solvent → adding improver → drying and curing → crushing → cutting → calcining → finished product.
Ceramic corundum abrasives are manufactured by first mixing alumina monohydrate and water to make a suspension, to which a colloidal solvent, such as nitric or hydrochloric acid solution, is added to make a stable hydrosol or colloidal suspension.
To this is then added an improver, usually a metal oxide or its predecessor, such as mg(no3)2, to gel the sol-gel; the resulting cavity is dried and cured, then crushed or cut into particles of the required shape and size, and calcined to become an abrasive.
More Description
As a leading abrasive manufacturer in the industry, our brown corundum has been exported to Singapore, New Zealand, Canada, Australia, USA, India and Pakistan, helping our customers to improve the quality of their processes and further expand their markets.
Our black corundum abrasives have many significant advantages, and as a part of the thousands of abrasive products, have their own irreplaceable advantages in polishing! The unique internal structure of corundum makes it less likely to burn the surface of the workpiece when polishing, especially for stainless steel, which can be polished to a very high finish! Today corundum abrasives are used in a wide range of industries, from shiny tableware, to brand new furniture, to all kinds of sanitary ware, all of which are the main workplaces for corundum abrasives.
The quality guarantee is one aspect, the other is the preferential price, in order to enable our customers to get a more favorable price, we have taken two measures, on the one hand, to develop a new process to reduce the production cost of black corundum, and on the other hand, to benefit our customers, we are willing to use a lower profit to allow our customers to further improve the competitiveness of the market, because we are a company with a long-term development plan, only by gaining the trust of our customers, we can gain a higher reputation in the abrasive industry.
We can also provide a very complete service, if you have special needs, you can contact us, we will provide you with customized services, we sincerely look forward to cooperating with you, I believe our cooperation will be very pleasant!
Corundum: A Complete Buying Guide.
Are you aware of the various abrasives available? Are you looking for quality black corundum? Our corundum abrasives will be your most trustworthy choice!
Here are some answers to some common questions you may have about corundum.
1. Benefits of Fused Alumina
1. Resistant to abrasion, acid and alkali corrosion, high temperatures, stable thermal properties and long service life.
2. High grinding capacity, with very high processing productivity, which can bring very high economic benefits to manufacturers.
3. Good processing quality, does not affect the colour of the processed parts, the surface of the workpiece after processing is smooth and beautiful.
4. The amount of iron oxide contained is extremely low, which makes it ideal for blasting operations where iron residues are strictly prohibited.
5. Monocrystalline corundum is a high grade abrasive material that can be used in a wide range of applications in many different industries.
2. How to Verify the Quality of Fused Alumina
1. Check the purity of the corundum abrasive, the higher the purity the better.
2. Check the hardness of the chrome corundum, the higher the hardness the better the practicality.
3. Check the corrosion and abrasion resistance of black corundum, which is very important as an abrasive.
3. Industries using Fused Alumina
1. Used as a wet or dry sand or blast sand, fixed abrasives and coated abrasives.
2. Used for ultra-fine grinding and polishing in the crystal and electronic industries and for the manufacture of high grade refractory materials.
3. Used as contact media, insulators and precision casting sands, etc.
4. Used as work hardening steel, alloy steel, high speed steel, high carbon steel and other materials with high hardness and tensile strength.
4. How much Fused Alumina Cost
We can offer a wide range of corundum abrasives at a price of around $6000 per tonne, the more you buy the cheaper our prices will be, although we can negotiate the price of microcrystalline corundum. Our prices are very competitive in the market and we will provide you with the highest quality black corundum, if you need it, feel free to contact us!
5. Types of Fused Alumina in the Market
We can offer a full range of corundum abrasives to our customers, including: white corundum, brown corundum, chrome corundum, microcrystalline corundum, single crystal corundum, zirconium corundum, praseodymium corundum, black corundum, alumina sintered corundum.