We are an abrasive supplier integrating R&D, production, sales and service. We have more than ten years' development experience in the abrasive industry, mastering the most cutting-edge market consultation, and can provide very perfect service to our official customers.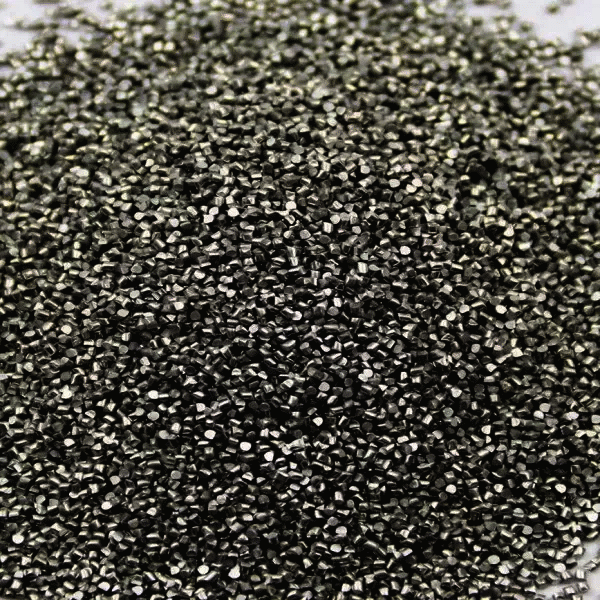 Zinc Cut Wire Shot Recommend Products
Zinc Cut Wire Shot Detail Introduction
The production process of our zinc pellets uses a very advanced production process, from raw materials to the finished product process without other ingredients into, no contact with other metals, each batch of pure zinc pellets content of 99.99% or more. The zinc cut wire shot also has stable performance, high grinding and polishing efficiency, no damage to the surface of the workpiece, as well as resistance to abrasion and corrosion.
In addition, we can offer a wide range of different abrasives such as bearing steel grit and corundum, each of which is of very high quality, and we can also offer very competitive prices.
If you are looking for high quality zinc wire cut pellets, please contact us and we will provide you with the most cost effective pure zinc pellets, we sincerely look forward to working with you!
Zinc Pills
The process of zinc pellets is as follows: zinc ingot selection → physical and chemical testing → high temperature melting → titration moulding and cooling → ultrasonic cleaning → drying → shaped and sized screening → testing → finished product → packing into storage.
Firstly, the raw materials are selected and strictly tested. After selecting the suitable raw materials, they are melted at a high temperature in a titration moulding furnace, after which the zinc liquid will drip out at a certain speed and gradually evolve into zinc pellets during the cooling process due to the surface tension of the metal. This is followed by ultrasonic cleaning, screening for suitable dimensions and then testing to complete the production.
More Description
We have been in the abrasive industry with more than ten years of development experience and have accumulated very rich experience in the process of continuously serving our customers. Nowadays, our pure zinc shot abrasive customers have spread to many countries and regions all over the world, such as France, Italy, the United States, Myanmar, Vietnam, Russia, etc., making outstanding contributions to the development of the world economy.
In the process of development for many years, we have always been committed to improving our process level, on the basis of not short investment in research and development, exchange and cooperation with internationally renowned enterprises, the introduction of the most advanced international zinc pellet process for production, through our unremitting efforts, our zinc cutting wire pellet production process has reached the world's leading level, the production of zinc pellet abrasives is well recognized by the market.
In today's highly competitive market, our zinc cutting wire shot has a very strong competitive advantage. In terms of quality, our pure zinc pellets are of higher purity, more reliable quality, last longer and produce workpieces with a higher and smoother surface quality, and we can also offer very favourable prices, which is ideal for manufacturers to further expand their market.
Customers who have worked with us have given very good comments, and we will not forget our original intention and continue to work hard, and strive to provide more high-quality zinc cutting steel wire shot to Guangfa customers.
We always adhere to the principle of providing quality service to our customers, and are committed to developing higher quality zinc shot abrasives to further promote the development of the abrasive industry. If you are looking for a quality partner, then we believe we will be your most trustworthy choice, and we sincerely look forward to your arrival!
Zinc Shot: A Complete Buying Guide.
Do you want to further improve the quality of your workpieces? Do you need a high quality zinc shot abrasive? How much do you know about pure zinc pellets and abrasives?
Below you will find detailed answers to some common questions about zinc shot.
1. Benefits of Zinc Cut Wire Shot
1. Made from high quality raw materials and advanced technology, it has a very high quality standard, with a tight structure, uniform grains and a bright silvery white appearance.
The high specific gravity of zinc and its low hardness allow for the removal of burrs without abrading the surface of the product, resulting in high processing quality.
3. Widely used, it can be applied in the automotive, aircraft, shipbuilding and other industries.
4. High safety and significant whitening effect on the surface of the workpiece.
2.Industries using Zinc Cut Wire Shot
Zinc Cut Wire Shot is mainly used for surface strengthening and deburring of ferrous and non-ferrous metal parts, polishing of non-ferrous metal parts and main surface finishing of parts.
The main industries using Zinc Cut Wire Shot are automotive, aircraft, shipbuilding, container, machinery manufacturing, metal casting, metal surface treatment and other industries.
3. How much Zinc Cut Wire Shot Cost
Our Zinc Cut Wire Shot costs between $4,000 and $4,500 per ton, although our prices are not the lowest in the market, there is no doubt that our pure Zinc Cut Wire Shot offers the best value for money in the market, both in terms of quality and price, our Zinc Cut Wire Shot has a very competitive advantage.
4. Zinc Cut Wire Shot Validation Documents
Our pure zinc pellets are manufactured in accordance with CE and ISO standards and have now been certified by a number of international organisations and have very high quality standards.
5. Why Choose our zinc shot abrasives?
We are a very professional manufacturer in the abrasives industry with extensive experience in the sector and have served customers from all over the world, with whom we have established long-term relationships.
We have our own factory and can offer our customers ex-factory prices and a full guarantee of quality, and we can send you samples if you need them.
We are a very reliable partner and enjoy a very high reputation and credibility in the industry, we sincerely look forward to hearing from you!