We are a well-known abrasives supplier in the industry. We provide a wide range of abrasives such as bearing steel grit and corundum abrasives, as well as various ancillary facilities such as abrasive blasting gloves, and we can provide a one-stop service to help our customers further improve their competitiveness in the market.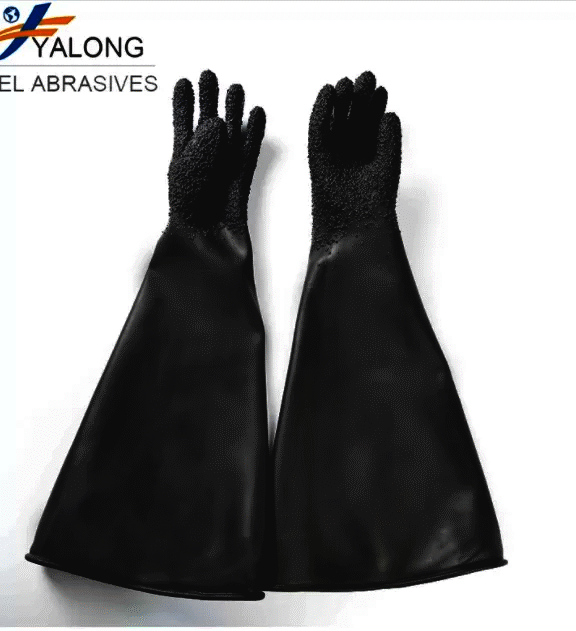 Sandblasting Gloves Recommend Products
Sandblasting Gloves Detail Introduction
Our granular sandblasting gloves are made of wear-resistant rubber as well as special technology, with very high quality standards, resistant to wear and tear, high pressure, and long service time, which can give users very good safety protection, and are unanimously approved by manufacturers.
No matter what kind of sandblasting rubber gloves you need, we can supply them, and we can also customise sandblasting gloves for you according to your needs. Today we have served many customers from home and abroad, and they have referred many customers to us, and we have followed up every order with revenue.
We have opened up the market with our superb value for money sandblasting gloves and are firmly established in the market, we are a very reliable partner, if you need any, feel free to contact us, we will be happy to serve you!
Sandblasting Gloves
The process of sandblasting gloves: typesetting and drawing → drawing the pieces according to the length of the scheduled pieces → cutting → shimming → napping → clearing the pieces → opening finger seams on the mould → sewing → turning the gloves → inspection → finished products.
Firstly, the sandblasted gloves are laid out and drawn in accordance with the requirements of the product, after which the pieces are drawn with the mould in accordance with the requirements. Next, the raw materials are cut, padded with the relevant auxiliary materials according to the process requirements, the padded pieces are subjected to the first process, i.e. running and slipping, the pieces are sorted, after which the cleared pieces are cut twice, the mould is opened and finger stitched, after which the stitching and sewing are carried out, and finally the finished sandblasted gloves are turned from the reverse side to the front. After inspection, they are ready for sale.
More Description
As an abrasive supplier with many years of experience, we have gained a high reputation in the abrasive industry and now have customers in many countries and regions such as New Zealand, Australia, Pakistan, USA, France and Turkey, and we have also established a comprehensive market network worldwide.
Our sandblasting gloves are made from highly abrasion resistant rubber and we have introduced the most advanced production processes to produce granular sandblasting gloves with satisfactory abrasion resistance and high pressure resistance.
In addition to this, we have a strict testing facility to ensure that each pair of sandblasting gloves is tested to a very high quality standard, so that our customers can use them with confidence.
Quality is always the number one factor when it comes to production, and our flat sandblasting gloves are recognised by our customers for their quality, and you don't have to have any worries when it comes to price, our prices are very favourable and competitive, enough for you to buy the highest quality sandblasting gloves at the best price, and we can promise you that our sandblasting gloves have the highest price/performance ratio in the market.
We can also provide customised services, if you have special needs then you can contact us directly, our customer service will be online 24h to provide you with a comprehensive solution to your relevant needs.
We are very confident in our sandblasting gloves and believe you will also reap the most satisfactory service, we always adhere to the principle of providing cost-effective sandblasting gloves for our customers, and do our best to serve every customer, we sincerely look forward to cooperating with you!
Sandblasting Gloves: A Complete Buying Guide.
Do you want to buy high-quality gloves for sandblasting? Are you looking for an excellent partner? Trust us to be your most trustworthy choice!
Some common questions about sandblasting gloves will be answered in detail below.
1. Benefits of Sandblasting Gloves
1. Made of abrasion-resistant rubber and a special production process, they last 15 times longer than ordinary gloves.
2. Longer and thicker, resistant to abrasion and high pressure, giving the user the best protection.
3. Sandblasting rubber gloves are easy to connect with sandblasting equipment, making them more practical.
4. Good price, better value for money.
2. Types of Sandblasting Gloves in the Market
There are two main types of sandblasting gloves: flat sandblasting gloves and granular sandblasting gloves.
Generally speaking, granular gloves are more durable than flat gloves, and flat gloves are suitable for holding smaller sandblasting workpieces.
Regardless of the type of sandblasting glove, we can offer a customised service, usually around 70cm in length.
3. Industries using Sandblasting Gloves
Sandblasting gloves are mainly used on dry sandblasting machines and liquid sandblasting machines and can be fixed to the machine or worn on their own as a protective measure.
4. How much Sandblasting Gloves Cost
Our sandblasting gloves offer excellent value for money at around $1 per pair, or we can offer a better price if you buy more. We can also offer better prices if you buy more. Our sandblasting gloves are very competitive in the market in terms of price, quality and price.
5. What are the precautions when using sandblasting gloves?
1. When taking off your blasting gloves after finishing the process, wash your hands with mild soap and dry them completely.
2. If you need to use sandblasting gloves for a long period of time and your hands sweat very easily, you can wear sweat-absorbing gloves first and then flat sandblasting gloves to prevent discomfort on your hands.